Employee leave policies are an essential aspect of any company, defining the amount of leave an employee is eligible for, the types of leave, and the process for taking them. Offering a leave policy is crucial for good employment management. It helps employees take a break from work, be it for a vacation, office break, or emergency. This is where a dependable Leave Management System (LMS) comes into play. It is software that streamlines leave requests for employees and offers useful features to manage employee time off.
In this post, we will define and examine leave management systems, their importance, types of employee leaves, and Time Off Cloud's revolutionary leave management solution.
What Are Leave Management Systems?
A leave management system is a platform that allows employees to request leave. Employers can review and approve or disapprove based on validity. It is cloud-based, automated, and digitized, making it a convenient and hassle-free experience. With automated time systems and an adaptable human resources information system (HRIS) platform, companies no longer need manual timesheets or disorganized piles of paper records to manage employee leave.
Through cloud resources, employee leave requests are organized and stored in a single place. The employer or manager can accept or decline the requests quickly and easily. They can also oversee absences and days off in a single digital platform. These tools can help organizations stay in compliance with various leave-related regulations.
The Benefits
An automated leave management system offers several benefits that can impact a company's overall efficiency and productivity. Check out the infographic below for some of the top benefits: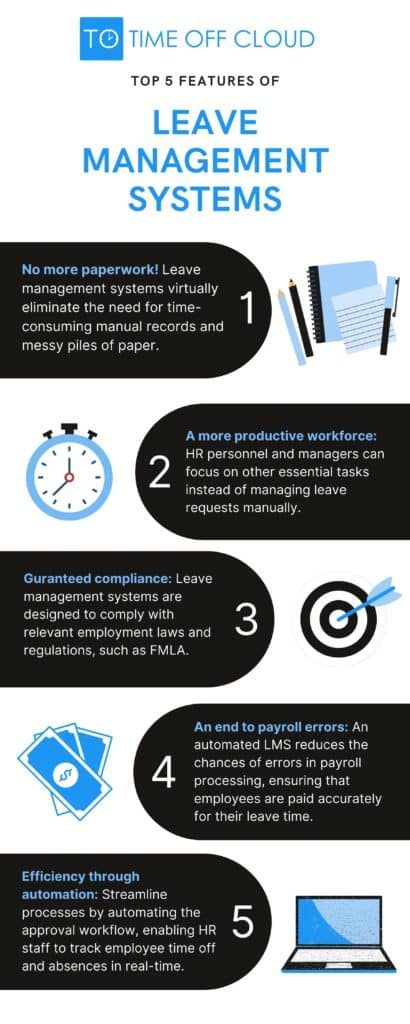 Types of Employee Leave
There are different types of employee leave, such as paid time off (PTO), sick leave, vacation, leaves of absences, parental leave, holidays, and FMLA. Regular employees usually receive a certain number of PTO days per year, allowing them to spend time away from work while still getting the same amount of compensation. Sick leave is meant to give employees extra time to recover from illnesses or take care of their health conditions. Vacation leaves are for traveling and leisure time. Leaves of absences are for unforeseen events or emergencies, while parental leave is for taking care of children.
What Can You Do With a Leave Management System?
More and more organizations are adopting leave management tools. In fact, according to a study conducted by LinkedIn Learning, the global absence and leave management software market is expected to grow 9.3% between 2020 and 2026. A modern, user-friendly leave management system that automates processes and increases accuracy is essential for businesses that want to compete in the future. Once you have chosen a quality time off tracking tool, you will be able to use it to do the following:
Streamline employee leave requests
Track employee time off and absences
Manage different types of leave
Maintain accurate records of employee leave balances
Automate leave approval workflows
Reduce paperwork and manual processes
Improve communication between employers and employees
Ensure compliance with leave-related legislation
Enhance productivity and efficiency in managing employee time off
Working with Time Off Cloud
Time Off Cloud is a top leave management system that allows for automated PTO, employee leave, and vacation tracking for all members of the company in a few easy clicks. Its easy-to-use interface and powerful features make it the perfect solution for managing employee leave. With Time Off Cloud, there is no need for paper forms or manual processes, updating spreadsheets, time calendars, manual calculations, phone calls, and annual review frustrations. Time Off Cloud's innovative time off tracking tool is widely used by organizations of all sizes in over 100 countries.
In Conclusion
In conclusion, a leave management system is a critical part of a company's management strategy. It is essential for tracking leave requests, managing absences, and releasing payroll with high levels of accuracy. It helps to facilitate faster and more efficient communication between employers and employees and frees up valuable company time. The innovative technology of leave management tools, such as Time Off Cloud, has made it easier than ever to request and approve leave requests without physical transactions, eliminating manual requests, spreadsheets, and paper records.
Schedule a demo today and see for yourself how Time Off Cloud can enhance, automate, and improve your business.